BPISS BPIG CH. NITELATCHES TRINITY
TRINITY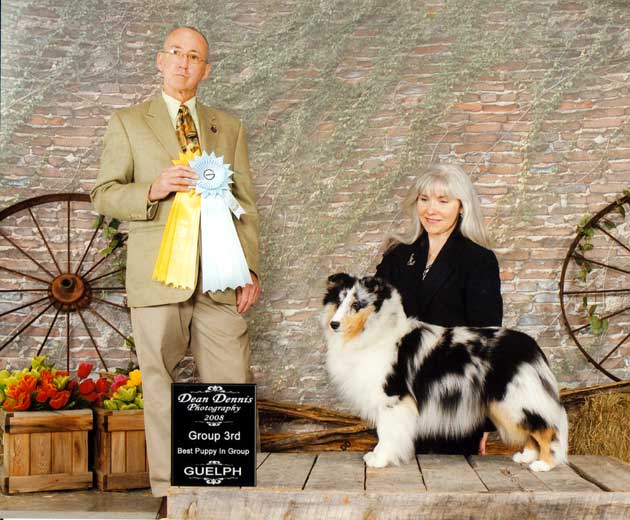 Nitelatches Trinity stepped into the ring for the first time as a senior puppy and came home a "Champion".

At the Guelph & District Kennel Club show on Friday April 18, 2008 "Trinity"was awarded a Group 4th under judge Mr. M. Martinez, Saturday another Group 4th and BPIG under judge Betty McHugh and to finish on Sunday, a Group 3rd and BPIG under judge Mr. J. Mitchell.

"Trinity" is pictured above at 9-1/2 months of age.

Thanks to Cheryl Pike for her beautiful presentation of Trinity and a very special thank you to Taylor Stevenson for all her hard work training our beautiful Trinity.

"Trinity" is pictured below at 18 weeks of age. We just love her personality, beautiful head, lovely body and that "look at me attitude".

Her breeding incorporates some wonderful producing sires and dams and we are hoping for great things from this blue girl.

May 18, 2008...BPIG Ch Nitelatches Trinity is now BPISS winner! Trinity was awarded Best Puppy in Specialty Show at the DCSSA Specialty under breeder judge Joe Molloy (US)....thanks to everyone for their lovely comments about Trinity and to Cheryl Pike for her beautiful presentation of our girl!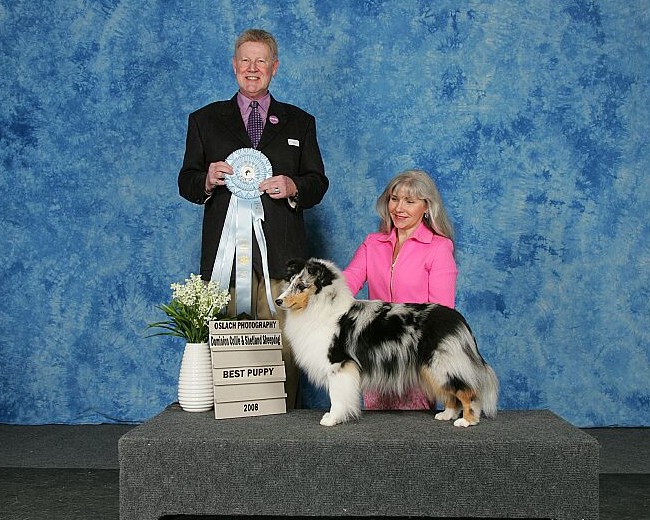 AM CH APPLE ACRES ODYSSEY ARMANI ROM
AM/CAN CH APPLE ACRES EXPEDITION ROM ROMC
AM CH TREVANNE'S DOMINIQUE ROM
AM/CAN CH GRANDGABLES BLACK STREET BOY ROMC
BPIS CH RIKADON'S INDELIBLE
BPIS CH GRANDGABLES LOVE IN THE SNOW ROMC
SAF CH CH KIRRIMIST FROSTED LACE FOR GRANDGABLES
CH. NITELATCHES THE MATRIX
AM/CAN CH CUB HILL STEEL WHEELS
CAN/BPIG CH BONNYVILLE'S NAUTILUS
CH BONNYVILLE'S MIDNITE ENCOUNTER
Nitelatches Song Sung Blue
CH PALISADES NIGHT AT THE OPERA
Nitelatches Midnight Serenade ( 3 Champions)
CH PALISADES WAIT UNTIL DARK
CH. NITELATCHES TRINITY
AM/CAN CH TOVEN WINTERTIDE ROMC
AM/CAN CH DURY VOE WINTERLUDE
Dury Voe Barcelona
AM/CAN CH DURY VOE WINTERGREEN
AM/CAN CH DURY VOE ZYDECO ROM ROMC
Dury Voe Rhonda Rhonda
Dury Voe Treasure Island
Nitelatches Enchanted Evening
AM CH APPLE ACRES ODYSSEY ARMANI ROM
AM/CAN CH APPLE ACRES EXPEDITION ROM ROMC
AM CH TREVANNE'S DOMINIQUE ROM
CH NITELATCHES PANDAMONIUM
CH PALISADES NIGHT AT THE OPERA
Nitelatches Midnight Serenade ( 3 Champions)
CH PALISADES WAIT UNTIL DARK