NITELATCHE'S DESIGNER FASHION
RAYNA
We would like to introduce you to "Rayna".
She has a very outgoing personality and lovely clean head and flawless movement.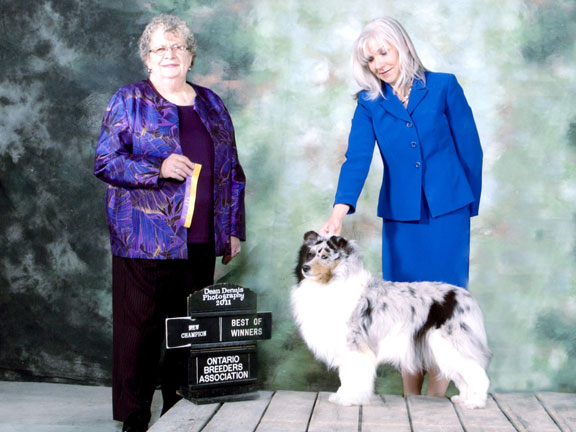 "Rayna" attended the Ontario Breeders Show and came home a New Champion.
Under Judge Fred Dewsbury she was awarded Best of Winners and on Saturday
repeated her win under Judge Donna Cole to finish.

Thanks goes out to Cheryl Pike for presenting "Rayna" so beautifully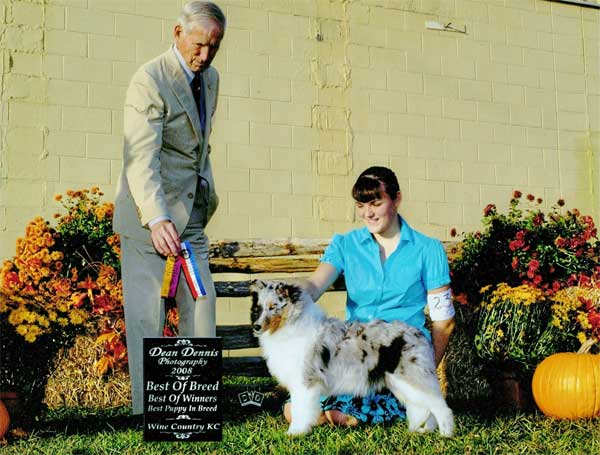 Rayna is pictured below at 6 1/2 months.
Her pedigree, sire and dam are pictured below.

July 22, 2009... Rayna is awarded Winners Bitch for 3 points at the Valley Kennel Club Show. Thanks to Judge Mel Bungey and to Taylor Stevenson (handler) for a job well done!

October 12, 13, 2008...Nitelatches Designer Fashion attended her first show and under judge Joe Gregory was awarded Best of Breed, Best of Winners from the Junior Puppy class for her first 2 points. Under judge Brian Taylor, Rayna earned Reserve Winners Bitch. Rayna is only 6-1/2 months old. Thanks to Taylor Stevenson for handling Rayna !!
BPIS CH LYNPHIL DESIGNER GUY

CH BPIG NITELATCHES DALGARNOCH DIVA
AM/CAN CH DUNDEE HULLSTON JAMBALAYA ROM
AM CH APPLE ACRES ODYSSEY ARMANI ROM
AM CH APPLE ACRES HI-FASHION MODEL ROM
AM/CAN CH APPLE ACRES EXPEDITION ROM ROMC
BISS BIS AM CH HOMEWOOD HURRICANE ROM
AM CH TREVANNE'S DOMINIQUE ROM
CH SHADLAR'S TREVANNE'S TRIVIA
BPIS CH LYNPHIL DESIGNER GUY
AM/CAN CH VIRGO BROADWAY JOE
AM/CAN CH SILVERADO VIRGO DICAPRIO
AM CH VIRGO SIVERADO
Shelou's Serendipity
AM/CAN CH TOVEN WINTERTIDE ROMC
Shelou's Winter Classic
Macdega Country Lane Classic
Nitelatches Diva/Barney Puppies
AM CH MONTAGE CONGAREE
AM CH MONTAGE BOOTY CALL
Homewood Heavenly
CH MONTAGE GRANDGABLES BOOT CAMP
BISS BIS AM CH POP STAR SS OF NORTHERN FARM
AM CH MONTAGE WEEPING WILLOW (ASSA WINNERS BITCH 2006)
Homewood Goodnight Moon
CH BPIG NITELATCHES DALGARNOCH DIVA
AM CH APPLE ACRES ODYSSEY ARMANI ROM
AM/CAN CH APPLE ACRES EXPEDITION ROM ROMC
AM CH TREVANNE'S DOMINIQUE ROM
CAN/BIPG CH NITELATCHES DRIVING MISS DAISY
CH GOLDENHYLITE'S BEHIND THE MASK
CH NITELATCHES CENTRE STAGE
Nitelatches Salutes Phantom